This clean & refined lot is a result of Luis Anibal's quality processing, delivering prominent juicy berries.
Regular price
Sale price
£20.00
Unit price
per
Sale
Sold out
Character

We taste blackcurrants and honey.
Brewing

Recommended for espresso and filter.
Resting

Before brewing, rest the coffee in its sealed bag for a minimum of 14 days.
Share
View full details
We welcome back Luis Anibal.
We are pleased to welcome back the refined processing of Luis Anibal Calderón with this Gesha. Luis was one of the first farmers in the Huila region to produce high end micro-lots as well as mastering alternative processing methods such as extended fermentation, honey and natural.

Originally discovered in Panama in 1931, the Gesha varietal has since made its way to Colombia, and we are excited to offer this clean lot showcasing its potential. We were drawn to this coffee for its prominent juicy berries and quality processing.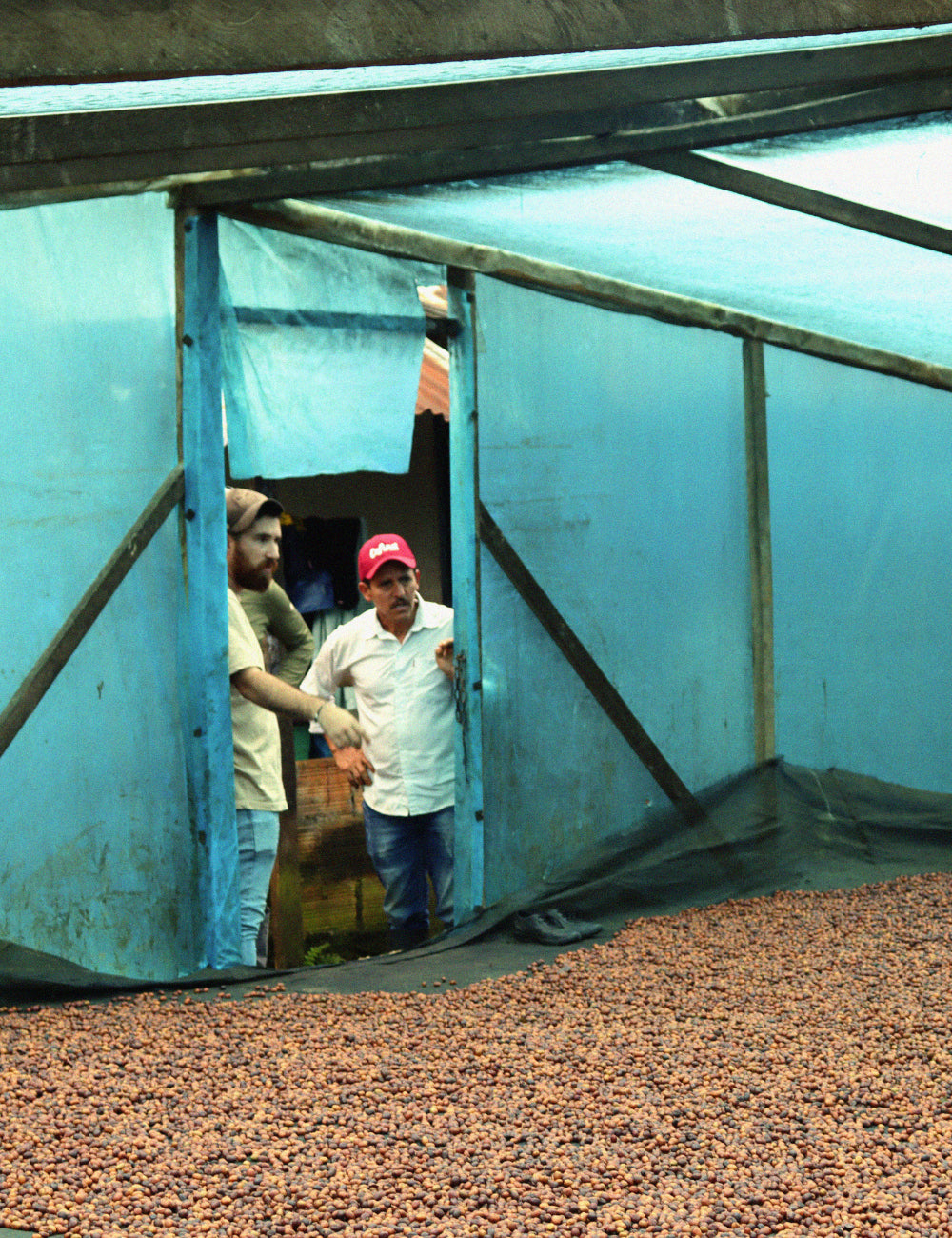 The Producer
Luis Anibal Calderón is a second generation coffee grower born in Acevedo, Huila. He prides himself on providing employment and opportunity for his community. On Betulia you'll now find all sorts of exotic varietals that Luis has planted.

In 2019 Luis, under the guidance of Cofinet began planting native trees amongst his coffee trees to reduce the need for fertilisers, preserve his soil and improve the cup quality.

This coffee was carefully hand-picked in order to use the ripest cherries, then exposed to an aerobic environment for 24 hours. The coffee is then put into bags to undergo 200 hours of fermentation and later left to sun dry on raised beds until ideal moisture content is achieved.
Production Data

Produced by Luis Anibal Calderón

Region - Huila

Grown at 1500 - 1600 masl

Varietal - Gesha

Harvest - March 2022

Process - Anaerobic Natural

Anaerobic Natural

Whole cherries are placed inside grain pro bags or containers and all oxygen is expelled.

They're then left to ferment for a desired amount of time at a certain temperature, depending on the producers unique protocol.

Once the specific fermentation has been reached the coffee follows a natural process procedure, the increased control over fermentation leads to a bright clean cup profile.